I went to an estate sale last week and it was the strangest sale I'd ever been to. It was like something out of "The invasion of the body snatchers." The home was a beautiful mansion and it appeared as though there had been an unfortunate accident and the family who had lived there just disappeared. There were towels left folded in the linen closet and dishes with boxed food still sitting up on the pantry shelves. The bathroom had everything from inside of the cabinets emptied on top of the marble counter and blankets were lying in the sunken jacuzzi tub. The bedroom closets still had clothing in them!
I was too freaked out by the oddity of the situation and I had to leave. I can't rummage through someones drawers or closets. It's kind of sickening.
The person in charge told me the family was in foreclosure downsizing - yeah sure.
Greed has ruined is ruining us.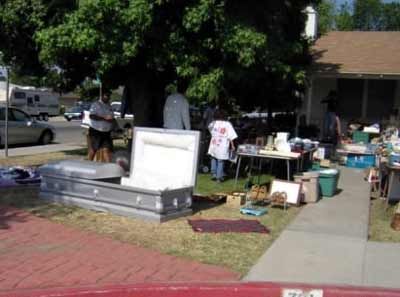 9/17/10